WARRIORS SOAR is an organization dedicated to ending veteran suicide.
95% of your investment goes directly to activity-based programs in our fight to end veteran suicide.
Watch the video to learn about WARRIORS SOAR.
Assist in the Healing and Reintegration of our Wounded Heroes through S.O.A.R.
(Support, Outreach, Assistance and Recovery)
Please help our cause by making a donation to WARRIORS SOAR today.
Who is WARRIORS SOAR?
WARRIORS SOAR is a non-profit 501(c)3 organization dedicated to supporting disabled veterans struggling through indoor and outdoor activities. SOAR stands for Support, Outreach, Assistance and Recovery. We understand that the transition from military to civilian life can be difficult, and that many veterans face challenges from mental and physical injuries. 
At WARRIORS SOAR, we believe that spending time in nature, with other veterans and engaging in activity-based programs can have a powerful positive impact on mental health. That's why we offer a range of indoor and outdoor activities that are specifically tailored to the needs of veterans.
Our programs include golfing (both indoor and outdoor), fishing (both ice-fishing and lake fishing), sailing to a 7-day baseball fantasy camp in Ft. Myers, FL.  Through these activities, veterans are able to build camaraderie with fellow veterans, get out of the house, and find a renewed sense of purpose.
We understand the unique challenges that veterans face, and we are committed to providing a safe and supportive environment where veterans can heal and grow.
All of our programs are free for veterans, and we rely on the generosity of donors and volunteers to make them possible. If you or someone you know is a veteran struggling with depression, please contact us to learn more about how we can help.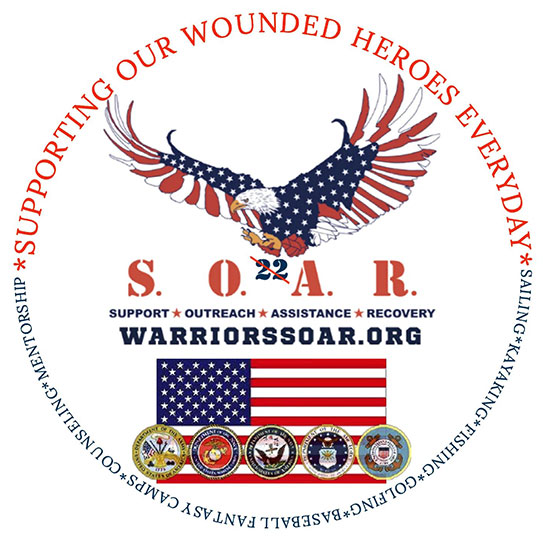 Support
WARRIORS SOAR supports its members in many different ways. By hosting programs through the year, we give disabled veterans opportunities to participate in events out of their homes that they may not otherwise have access to attend. Our veterans also have opportunities to bond with other veterans and find healthy ways to cope with mental or physical injuries they may carry. 
Outreach
We provide public awareness of the struggles our warriors are facing as a result of combat operations.  We provide support for our warriors dealing with mental and physical injuries from combat operations. Furthermore, we contact veterans in need and offer assistance through indoor and outdoor activities.
Assistance
There are many great organizations that provide veteran support. We can help you navigate your way.
Recovery
Recovery can be a slow and daily process "new norm" for disabled veterans, and it is supported through engagement with other veterans, family members, recreational activities and opportunities that may not be provided without the support of WARRIORS SOAR and our supporters. 
Look for an event near you!
Join our mission.
By signing up for our newsletter, you are supporting the work that we do and helping veterans find our services.
THANK YOU
YOU CAN NOW SUPPORT WARRIORS SOAR WITH A LITTLE CHANGE!
ROUND-UP